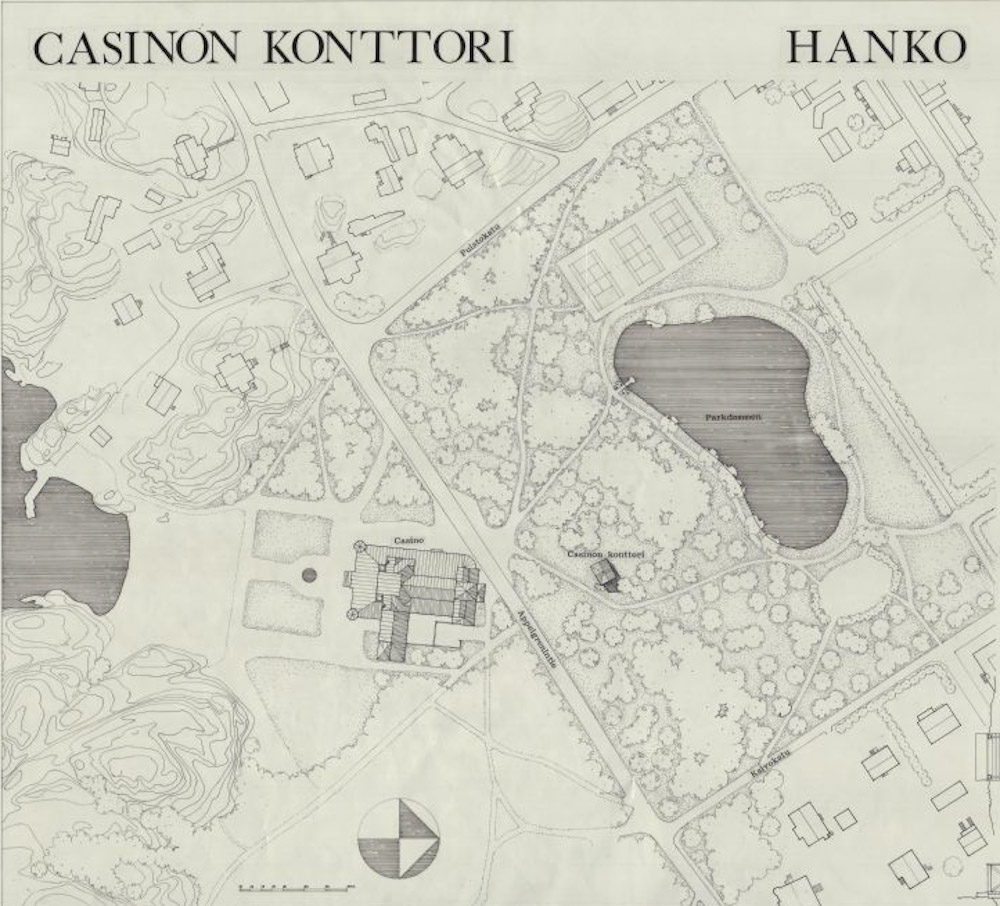 Hanko parks are great places to walk all year round. The first actual parks appear in the town plan from 1900, when the Town Hall Park, Vartiovuorenpuisto, Spa Park, Railway Park and the current Haagapuisto existed or are planned.

Hanko's parks are great places to walk all year round. The first real parks can be seen in the site plan from 1900, when Raatihuoneenpuisto, Vartiovuorenpuisto, Kylpyläpuisto, Rautatiepuisto and the current Haagapuisto existed or were planned. The city was much smaller than it is today. Kylpyläpuisto wasn't actually part of the site plan area either.
A town hall was planned for the current town hall from the beginning, but the first town hall was finally built only in 1926. The first site plan from 1874 mentions that the town square would be here. However, it moved to the vicinity of the railway station.
Vartiovuorenpuisto developed around the church, which was finally placed on Vartiovuori and the church was completed in 1892. Raatihuoneenpuisto and Vartiovuorenpuisto have become a whole, which, especially after the completion of the town hall, has been the city's parade ground.
Planning for the spa park had begun in 1878 and the spa itself began operating in 1879. Station manager Konrad Appelgren wanted to protect the pine trees that grow naturally in the area, and his will prevailed and linden trees were not planted. The spa park was a closed area to which only spa guests could enter. Here they were able to walk, which was part of the treatments. What was special was that the park was partly founded on the rocks and the area also had a hiidenkirnu that developed during the ice age. Right in front of the spa and Seurahuone, or Casino, there were flower and shrub plantings. In 1900, it was planned to fill the entire Busträsket, but half of it was preserved, and it then became Puistolampi.
The railway park was the first park that those coming to Hanko saw. Spa guests and immigrants on their way to America came on the train. It was a bushy park consisting of trees. From here you could get almost directly to the Boulevard, which is lined with imperial lime trees, and which give the city's main street a park-like essence.
Haagapuisto was supposed to extend on both sides of the Esplanade, but it has been realized on a smaller side. We don't have any older photos of this park. Pictures have been added to the museum's collections somewhat randomly, and we don't have pictures from many places.
Many parks have come to Hanko since then, which we can be proud of and many thanks to the parks department, which annually takes care of the parks and plants beautiful plants in them.
Photos: Hanko museum, A. Lindh, TA & Kukkurainen, P. Casino, Hanko, measurement drawing. Museum Office, Church on Vartiovuori, park in front. Museum Agency.